Preventive Care Protects Smiles at Marini & Manci Dentistry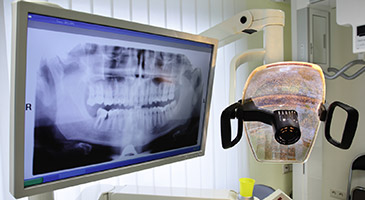 Our dental team is always here to help in cases of dental injury, decay, and cosmetic concerns – but we'd prefer to stop these issues before they ever get the chance to start. That's where preventive dentistry comes in. With these services, Dr. Joseph Marini and Dr. Gary Manci can diagnose your needs at the earliest signs of trouble and provide valuable protection that keeps your teeth safe and strong. Contact either of our office locations in Manhattan, NY or Union City, NJ today if you have any questions for our team, or if you're ready to schedule an appointment for you or a family member.
Check-ups & Cleanings
Attending a routine check-up and cleaning every six months (or twice each year) is one of the most important steps patients can take to maintain their oral health and happiness over the years. Even those who brush and floss diligently at home can end up falling victim to problems that go unnoticed by untrained eyes. That's why our doctors and dedicated staff members are here to help, thoroughly reviewing each tooth, your gums, your bite, your jaw, existing restorations, and more in order to form a complete understanding of your unique smile and any concerns that need attention. By treating areas of damage or decay as soon as possible, we can save you valuable time, money, and discomfort down the road.
Professional cleanings are also strongly encouraged for patients of all ages from Secaucas, NJ and surrounding areas. Our excellent hygienists will remove plaque, tartar, and unsightly stains from your teeth and gums, leaving you with a smile that feels great and looks beautifully polished.
Dental Sealants
Keeping your back teeth's deep chewing grooves fully clean of food and bacteria can be a challenge, especially for younger patients who are still learning how to brush and floss properly. That's why Dr. Marini and Dr. Manci often recommend dental sealants as a quality preventive measure. Sealants are painted directly over these areas in order to "seal" them shut, providing a barrier that keeps out decay-causing agents and reduces your overall risk of cavities.
TMJ/Bruxism Therapy
Bruxism (teeth grinding) is a common habit among stressed-out adults that can lead to daily headaches, inexplicable dental damage, and other problems. Over time, untreated cases may even develop into TMJ disorder, a debilitating ailment that can result in excessive pain. If you're experiencing a misaligned bite, aggravated temporomandibular joints (TMJ), or other factors that are contributing to these problems, our doctors can help. We'll diagnose your condition during an in-depth consultation and recommend treatment options that fit your needs, which could include oral appliance therapy or an occlusal (bite) adjustment.
Sportsguards
Any patient who participates in a sport that involves physical contact on a routine basis should invest in a custom sportsguard from Marini & Manci Dentistry. Unlike the lackluster, one-size-fits-all models that can be found at the athletics store, our personalized appliances are designed for maximum effectiveness and comfort – patients can speak, breathe, and even move their jaw freely. We want to help you avoid injuries and keep smiling brightly!
Fluoride Treatment
Fluoride is an important mineral that can be found in some foods and many water supplies. Studies have shown that patients who drink a certain amount of fluoridated water tend to experience fewer cavities over the course of their lives than those who go without – this happens because fluoride concentrates in growing teeth and also aids in the remineralization process, providing valuable strength. If you or your loved ones aren't receiving enough daily fluoride, our team can provide additional applications during routine appointments.
Children's Dentistry
Here in Union City and Manhattan, our dental offices are always open to whole families, and we enjoy helping young patients on the path towards a happy, healthy smile as early as possible. Our team will keep a close eye on teeth and gums as they gradually develop, making sure to address developmental issues as soon as they arise. Preventive services like dental sealants and fluoride treatment will be a big help as well, and our hygienists can provide friendly, informative lessons on how to brush and floss properly.
Gum Disease Treatment
Gum disease is a serious health problem – in fact, nearly 80% of the American population is suspected to suffer from it. Dr. Manci and Dr. Marini take this threat extremely seriously, which is why our team makes periodontal screenings a vital part of every routine visit. If we locate signs of damage, revitalizing treatment options like in-depth cleanings and antibiotic therapy are available. Common signs patients can look out for at home include:
Oral bleeding that occurs when brushing/flossing
Gums that are overly red, swollen, or tender
Teeth that appear longer (a sign of your gum line receding)
Severe bad breath