Meet Dr. Gary Manci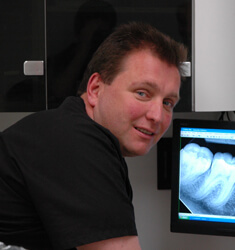 Dr Gary Manci received his bachelor's degree from Rutgers University. He continued his education at Fairleigh Dickinson University where he graduated with a Doctor of Dental Medicine (DMD) degree. Dr. Manci furthered his training by completing a residency program at Mountainside Hospital in Montclair, NJ. After residency, Dr. Manci and his partner Dr. Marini opened their first dental office in Union City, NJ and a year later a second practice opened in lower Manhattan.
For 30 years, both doctors have continued providing the highest quality of care to every patient and addressing each individual concern. Their office has been utilizing digital radiographs for over 15 years; they have digital scanners in both offices to improve clinical accuracy and eliminate the need for messy dental impressions.
Dr. Manci's welcoming smile and gentle demeanor creates a caring and positive atmosphere for his patients. Most importantly patient concerns and comfort are his main objectives. He continues to stay up to date with the latest technology and trends in dentistry. Dr Manci is trained and certified as an Invisalign provider and has treated a large number of cases, from simple to more advanced.
Dr Manci lives in NJ with his wife and two children Their daughter is pursuing a career in medicine, and their son is attending college majoring in Architecture. When becoming empty nesters, Dr. Manci and his wife acquired a dog ( Rudy) as their newest addition to the family.
In his free time Dr. Manci enjoys being with his family, going to Devil's games, playing basketball, golfing, and spending time down the shore.