Union City, NJ Dental Implants Recreate Strong, Beautiful Smiles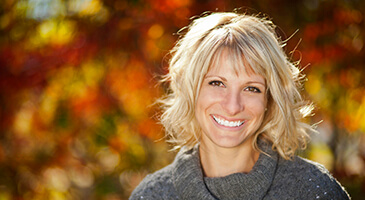 Losing one or more teeth can affect much more than your oral health – patients may be left with reduced function, damaged self-confidence, and an overall lesser quality of life. In these cases, Dr. Gary Manci and Dr. Joseph Marini recommend dental implants as the ideal way to rebuild missing dental structure in a durable and aesthetically lifelike fashion. In fact, many patients can't even distinguish them in look and feel from natural teeth after some time has passed. Our practice handles the placement and restoration of your new implants right here in the office for a smooth and comfortable experience – no outside specialists required! Contact Marini & Manci Dentistry today to schedule an implant consultation at either our Manhattan or Union City, NJ location.
Dental Implant Placement
The secret behind the success of dental implants is related to their structure. Traditional tooth replacement options like bridges and dentures only focus on the "crown" of the tooth – this is the white portion that appears when you smile. However, there's an equally important component that's located out of sight under the gum tissue. This is known as the root, and it keeps your jawbone healthy and stimulated. Dental implants are the only reconstructive procedure that replicates the root, allowing patients to maintain a great level of oral health while also regaining their naturally beautiful appearance in the process.
The first step of the implant process is the placement of the new implant(s) into the patient's jawbone. Instead of referring you to an outside practice, our doctors will personally handle the procedure so that you can stay in a comfortably familiar space with a team you trust. Once the implants are in position, patients will undergo a healing period that typically lasts months and allows them to fuse with your natural bone and tissue to create a solid foundation. This will set the stage for the final procedure – the creation and placement of lifelike restorations.
Dental Implant Restoration
Dental implants can be used to replace several teeth, an entire mouthful, or even just one. The scope of your restorative needs will influence the prosthetic we recommend. Metal-free dental crowns, implant-retained fixed dentures, and removable overdentures are all available. Above all else, Dr. Manci and Dr. Marini's goal is to help you achieve a sturdy, functioning result that both feels and looks just like the real thing. With the right amount of homecare and professional maintenance, patients from Greenwich Village and surrounding areas can look forward to enjoying their dental implants for 30 years, 40 years, or even the rest of their lives.
For more information on dental implants, please click below.