Manhattan, NY Invisalign Treatment Seamlessly Transforms Your Look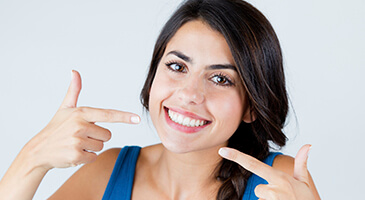 Many older patients feel like they've missed the boat on achieving a straighter smile with traditional braces, and for good reason. Wearing noticeable metal brackets and silver wires may work for middle school students, but the thought of being stuck with that look as a professional, polished adult can be too much of a hurdle to overcome. Thankfully, there's a subtler and more sophisticated alternative at Marini & Manci Dentistry – Invisalign. Contact our practice today to schedule an Invisalign consultation and find out if it's the right choice for you. Dr. Joseph Marini and Dr. Gary Manci welcome patients from all over West New York and beyond to their Manhattan and Union City, NJ office locations. In the last four years, we've personally handled over 300 Invisalign cases!
How does Invisalign work?
Instead of the traditional metallic model, Invisalign corrects patients' smiles with a series of clear aligners that are customized to fit their needs. You'll wear each one as directed before switching to the next in the set. Brief, routine check-ups at either of our office locations will also be needed so that our doctors can check on your progress.
Invisalign treatment has several advantages, including:
The aligners are removable, which means you can still enjoy your favorite foods and brush and floss like normal for maximum convenience.
The aligners are crafted from clear, smooth plastic that's been designed for your unique smile, eliminating the irritation that can occur with pesky wires.
Do you have a big event coming up? It's fine to remove your aligner for an hour or so and enjoy yourself to the fullest.
In most cases, Invisalign treatment will be complete in just 8-18 months, which is a big improvement over the multiple years traditional braces can often require.